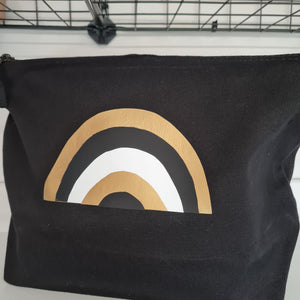 Fair trade, 100% organic cotton zip up project bag with vinyl scraps and instructions to make your own designs.
To make good use of our leftover pieces of vinyl from our font print tees, we've been making some fun tees and bag designs for ourselves and with our children and thought it might be fun to share these with you!
Each kit includes a blank - in this case a project bag - and some vinyl scraps to decorate it with. Cut the vinyl into shapes with scissors or craft cutters and simply iron on - we include full instructions in the kit.
This is the project bag kit, choose from black or navy bag.
Our vinyl packs come in three colour options -
NEON - which includes yellow, orange, pink and green neon pieces of vinyl.
CLASSIC - which includes gold, black and white pieces of vinyl.
MIX - which is a mix of all colours in the classic and the neon pack.

Sizing -

Bag measures approximately 23 x 23 x 11 cm; 5 Litres
Plenty of room for at least 300gs of yarn.

Shipping -
Please allow up to a week for a shipping. We'll let you know as soon as your item is on it's way to you.